UPDATE - 8/12@12:47PM: John at Cygnus-X1.net has transcribed the entire Alex Lifeson Vintage Guitar interview at this link. Thanks John!
It's summer vacation season for Rush and their fans, so there wasn't too much Rush news to report this past week. Alex Lifeson is using some of his free time to watch rather than participate in some good live music; he was spotted at the Foo Fighters show in Toronto this past Tuesday. The Foos acknowledged Alex (check out this video at around the 6-minute mark) - who was watching from the side of the stage - and dedicated their song Cold Day in the Sun to Rush. Unfortunately Alex did not perform with the band like he and Geddy had done back at the Foo Fighters' 2008 show in Toronto. Geddy was not spotted at Tuesday's show, but reader Andrew W did spot him on Monday evening at One Fusion Restaurant in Yorkville having dinner with some friends. Neil Peart spent some of his vacation giving an unannounced 1-hour drum class at The 16th Annual KoSA International Percussion Workshop, Camp & Festival at Castleton State College in Castleton, VT a couple of weeks ago. The Pro-mark drumsticks website posted a short article along with some photographs covering the event earlier this week:
Pro-Mark artist Neil Peart of Rush made a special guest appearance at the recent KoSA Summer Camp and Workshop at Castleton College in Vermont. The camp is world renowned among drummers and lets students live, learn and work with some of the finest drummers, percussionists and musicians in the world. Neil gave a master class and performed for the camp along with other KoSA faculty like Jimmy Cobb, Zoro, Dom Famularo, Aldo Mazza, Memo Acevedo, Aiyun Huang, Marcus Santos, Allan Molnar, Michael Wimberly, Jim Royle, Carmine Appice, Jeff Salisbury and more!
You can check out the photos at this link. I'm sure Neil is also taking advantage of his downtime to spend some quality time with his family, especially his daughter Olivia who turns 2 years old today. Happy birthday Olivia!!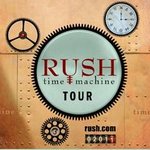 The DVD version of Rush's upcoming Time Machine 2011: Live in Cleveland concert video was made available for pre-order through Amazon.com a couple of weeks ago and as of this past week the Blu-ray version is also available for pre-order. The video was directed by Rush documentary filmmakers Sam Dunn and Scot McFadyen, engineered by Rich Chycki and is being released on October 25th by Concord Records. No other details have been released as of yet. If you haven't already, you can pre-order your copy at Amazon (DVD, Blu-ray).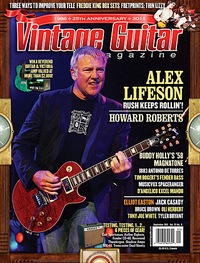 Earlier this week I posted a few excerpts from Alex Lifeson's September, 2011 cover feature in Vintage Guitar magazine. Most of the questions in the 3-page interview focus on Alex's various guitars that he's used throughout the years, but they also ask Alex about a range of other subjects including his thoughts on the Rock and Roll Hall of Fame:
It's not a big concern. It's a business that makes a lot of money and I have no problem with that, but it's not a real representation of what rock music is about. There are certainly a lot of bands in there that I admire, like Led Zeppelin and U2. But if we're not wanted there, I really don't care. Being inducted is not going to change my life at all.
He was also asked about his early influences, specifically his thoughts on Jimi Hendrix and Eric Clapton:
Oh, from the very beginning, Hendrix blew my mind. He was just amazing. There was no thinking about ever reaching his level. Everything he did seemed so nuanced and out of this world, especially at that time. You could never replicate that tone, or how he played those things. I certainly didn't have the dexterity to do it. As a kid, Clapton's solos seemed a littler easier and more approachable. I remember sitting at my record player and moving the needle back and forth to get the solo in "Spoonful." But there was nothing I could do with Hendrix.
When asked about Rush's upcoming Clockwork Angels album, Alex had the following to say:
Well, our intent was to have it out this year, but after we started it, we thought, "Let's go on a short tour, get in shape, then finish it." Then the tour did so well that there was pressure on us to do another run, then we decided to do another leg. We'll take a few months off after it's finished, and complete songwriting. Geddy and I are working on several new songs to balance out the six we've already written.
You can read the entire article in the September, 2011 issue of Vintage Guitar magazine.
Speaking of Alex, Guitar World magazine posted excerpts from an old 1996 interview with Alex Lifeson earlier this week where Lerxst dissects several key songs from Rush's past. Starting with 1975's Anthem and working his way up through 1996's Test for Echo, Alex discusses 11 different Rush tracks, specifically focusing on the guitar parts. You can read the article at this link.
Last month Audio Fidelity released a limited edition 24 Karat Gold CD version of Rush's Roll the Bones. This was the first Rush release from Audio Fidelity although another company - Mobile Fidelity - had previously released limited edition Gold CD versions of 4 other Rush albums; 2112, Moving Pictures, Signals and most recently Permanent Waves. Greg Barbrick recently reviewed the Roll the Bones Gold CD release for Blogcritics.org (thanks John at Cygnus-X1.net) and had the following to say about it:
... The first step is the remastering phase, which is done from the original tapes. Once this task is complete, the digital master is etched onto the glass disc surface in real time by laser. From this, the CD is made out of real gold, rather than the standard and often imperfect aluminum. The end result is a remarkably clean and "warm" sounding product, with the original analog depth intact, as well as the convenience and precision of digital technology. ... This new Audio Fidelity 24K + Gold Edition CD sounds much better to me than my 20-year old original disc does. I played a favorite cut, the instrumental "Where's My Thing?" from each version to compare, and the differences were surprisingly noticable. To paraphrase Charlie Sheen, this audiophile Roll The Bones CD is "Winning." ...
Audio Fidelity has also indicated that there would be more Rush releases coming in the future. You can order your copy of the Roll the Bones Gold CD at this link.
Eddie Trunk's debut book Eddie Trunk's Essential Hard Rock and Heavy Metal was released this past April. The book discusses Trunk's most essential hard rock and heavy metal artists and includes an entire chapter devoted to Rush. Eddie Trunk has been a radio and TV personality in the world of hard rock and heavy metal for more than twenty-five years. He is currently the host of VH1 Classic's That Metal Show and also has two weekly radio shows; Eddie Trunk Live on Sirius/XM radio's Boneyard channel, and the FM-syndicated Eddie Trunk Rocks. Trunk is a huge Rush fan and has been one of the loudest proponents for getting them inducted into the Rock and Roll Hall of Fame. Geddy Lee and Alex Lifeson were guests on the first season of That Metal Show back in 2009. He also interviewed Geddy and Alex for VH1 Hangin' With back in 2005 and Neil Peart for the same program back in 2006. Trunk was recently interviewed for NoiseCreep.com and relayed an interesting story about when he interviewed Neil for VH1:
I was working at VH-1 Classic. I'd interviewed Geddy and Alex, twice, and you know, Neil is shy and reserved and does not really do interviews. I'd gotten a call from a book publisher doing press for one of Neil's books, about him biking all over the country after the tragic loss of his wife and daughter. Neil wanted the interview to be with me because he'd seen me talk to Geddy and Alex and he felt like he trusted me- that I 'got' the band. It was a great honor. He showed up at the door with zero entourage. Just wearing a backpack and a baseball cap - the most unassuming guy in the world. You'd never know it was him. After, he went out for a smoke and I went outside with him. We kept talking out there, in the heart of New York City, and not one person passing by realized who it was. Just amazing.
You can read the complete interview at this link.
Gibson.com posted their list of The Top 10 Unusual Rock Star Hobbies to their website this past Wednesday. Coming in at number 7 was Geddy Lee's hobby of collecting baseball memorabilia:
In the Rush: Beyond the Lighted Stage documentary, bass player/vocalist Geddy Lee explains how his love of baseball grew as a way of letting off steam with something not related to music. He found himself watching a lot of baseball in hotel rooms between gigs, and from there he began to amass an impressive collection of baseball memorabilia. In 2008, he donated his collection of almost 200 autographed Negro League baseballs to the Negro Leagues Baseball Museum in Kansas City. Lee also is an avid wine collector.
You can check out the entire list at this link.
I first mentioned in a Friday updates post back in May that NMR Distribution was releasing a new set of Rush-themed playing cards that have photos of the band on the front face and a yellow on blue Rush logo on the back. These playing cards are now available for purchase both via Amazon and at the Rush Backstage Club.
Andrew Olson has added a bunch of new and updated replica drum kits to his Neil Peart replicas page over at his Neil Peart fansite. And John over at Cygnus-X1.net has transcribed and scanned a couple of old Neil Peart interviews from Rhythm magazine: this March, 1987 interview and this March, 1995 interview. Eric at the Power Windows site has also been busy scanning/transcribing old Rush magazine interviews. Some recent editions to his collection include this 2002 Guitar World interview titled Happy Trails, this 2006 Ontario Golf interview with Alex Lifeson, and this July, 2007 Bass Guitar interview with Geddy Lee. Thanks guys!
Neil Peart's latest book Far and Away: A Prize Every Time is also now available for the Kindle. You can order your Kindle copy at this link. Thanks to Andrew Olson for the heads up.
Reader Brian C located an amusing Rush mention in the movie review for the critically panned 2003 film Gigli over at Jabootu.net - a webisite dedicated to savoring the very bottom of the cinematic bell curve since 1997. At one point the reviewer describes the film as follows:
... Seriously, this movie is why people kill themselves. This is the Rush song "Losing It" personified. How do you go from [directing the movie] Scent of a Woman to [directing] the mesmerizingly pathetic Gigli and still want to live? ...
Reader Andrew W noticed this funny video commercial on the official Yamaha ATV Canada website featuring the characters Dougie and Donny. At the beginning of the video the pair are chopping some wood and singing (badly) Rush's Working Man. You can watch the video here.
The latest issue of Rolling Stone magazine (August 18th, The Sheepdogs on the cover) contains an article singing the praises of the new AMC television series Breaking Bad titled The Work Ethic of Breaking Bad (thanks Art). The article contains the following reference comparing the show to Rush:
... If The Sopranos was the Stones and The Wire was Zeppelin, then Breaking Bad is Rush. Walter White is just a geek trapped in a conform-or-be-cast-out world, riding on through the friction of the day. But he chooses to exercise his free will- if only by cooking up his private recipe for insanely strong blue meth. ...
Reader gaijin97 noticed this article in Science magazine concerning the recent confirmation by astronomers that Cygnus-X1 is indeed a black hole. The article is titled The Fate of the First Black Hole and makes mention of Rush:
The Canadian rock band Rush knows its astronomy. In a lengthy 1977 song, the musicians proclaimed Cygnus X-1, an x-ray emitting object thousands of light-years away, a black hole where voyagers venture "through the void to be destroyed"-even though physicist Stephen Hawking had bet against the black hole's existence. This year, astronomers proved Rush right by establishing that Cygnus X-1 does indeed harbor a black hole, a dead star whose great gravity lets nothing, not even light, escape. Now that result has inspired a forecast for the system's future: The black hole will swallow even more mass from an unfortunate star circling it, then likely dash away on its own when its companion explodes. ...
Metal band Careless was recently interviewed for a feature in Northeast PA's Weekender magazine. Bass player Nolan Ayers had the following to say regarding Rush's influence on the band:
... As a bassist, two of my major influences were Geddy Lee of Rush and Steve Harris of Iron Maiden. I wore the grooves off 'All The World's A Stage.' That's really where I learned how to play. I copped all of their stuff. And I still love it to this day. ...
Here's a bootleg video of Alex and Geddy performing YYZ with the Foo Fighters back in March of 2008 at the Air Canada Centre in Toronto:
That's all for this week. Have a great weekend!