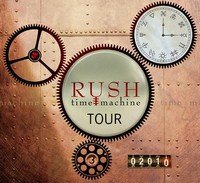 After over 3 months and nearly 40 shows, the US leg of the Time Machine Tour is finally winding to a close. Rush plays 2 shows in the Sunshine State of Florida over the weekend and then it's on to South America for 4 shows to close out the tour. This past week Rush played to enthusiastic crowds in Houston, Dallas and Atlanta. While in Atlanta the band took some time out to speak with CNN's John Roberts for a piece that aired on Thursday's American Morning program which you can watch at this link. This past week also saw several Rush-related releases including the 2112/Moving Pictures Classic Albums documentary, Suck the movie featuring Alex Lifeson and Guitar Hero: Warriors of Rock featuring Rush's 2112. And this past Tuesday there was the annual snubbing of Rush by the Rock and Roll Hall of Fame nominating committee, which was thankfully overshadowed by the announcement that Rush would be receiving a Classic Rock Living Legend award and also be named the Legend of Live at the 2010 Billboard Touring Awards.
The upcoming South American leg of the Time Machine Tour is causing quite a lot of understandable excitement among our fellow Chilean, Brazilian and Argentinian Rush fans. Rumor has it that over 50,000 tickets have already been sold for Rush's show at the National Stadium in Santiago, Chile - the first time the band has ever played that country. Brazilian reader Psico pointed me to this video newscast from major Brazilian TV channel Rede Record which covers Rush's upcoming 2 dates in Brazil. Reporter Lucia Sores caught up with the Rush tour in Bristow and spoke with several members of the crew along with Alex and Geddy. The video also contains a good bit of backstage footage. It's mostly in Portuguese but the Alex/Geddy portions are in English with Portuguese subtitles. Rush's South American tour begins next Friday, October 8th in Sao Paulo.
Speaking of the tour, earlier this week Rush's tour photographer and master of disaster (pyrotechnician if you prefer) John Arrowsmith was kind enough to send me the Time Machine Tour house music list to share with everyone. You can check out the list in this post.


A few weeks ago VH1 Classic premiered the 2112/Moving Pictures Classic Albums special during their Rush Hashanah celebration. The documentary covered the making of these 2 classic rock albums and included commentary from all three members of Rush along with producer Terry Brown, Taylor Hawkins of The Foo Fighters, Rolling Stone journalist David Fricke and many others. The special was released to DVD/Blu-ray this past Tuesday and you can order your copy on both DVD and Blu-ray, along with a special DVD/Blu-ray combo package that also includes both the 2112 and Moving Pictures CDs (4 discs total). The DVD has a total running time of 112 minutes including 50 minutes of bonus footage not included in the VH1 Classic broadcast. You can check out a couple of preview videos in this post.
The Canadian vampire horror/comedy flick Suck was released to DVD and Blu-ray in the US this past Tuesday. The film was released to theaters in Canada back in October of 2009 and had its US premier at the SXSW Film Festival in March in Austin, TX on Wednesday March 17th. Alex Lifeson makes an appearance in the movie as a border guard. You can get a glimpse of him in the film's trailer at this link (at about the 1:50 mark) and here's a video of Alex's complete scenes.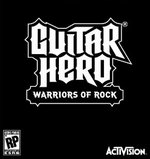 The 6th installment in the Guitar Hero video game series - Guitar Hero: Warriors of Rock - was also released on Tuesday. Rush's 2112 is one of the centerpieces of the game which includes a Quest Mode where heroes must play all 7 parts of the song. This portion of the game roughly follows the storyline of 2112 and is narrated by Geddy Lee and Alex Lifeson. You can check out all the details and watch a preview video in this post.
As I'd mentioned above, this past week started off with the disappointing yet not unexpected news that Rush was not chosen as a nominee for induction into the Rock and Roll Hall of Fame in 2011. As is typical in the aftermath of the Rock Hall's annual announcement, several angry journalists and bloggers let loose with some scathing remarks regarding this year's list of nominees and its exclusion of Rush. There's this article from Kirk Baird of The Toledo Blade who announces that he's boycotting the Hall until Rush gets in and invites others to join him. DJ, That Metal Show host and Rush fan Eddie Trunk goes off regarding the Hall's continued exclusion of Rush and other hard rock acts in this blog post. Several articles mention Rush as being one of the notable exclusions including this one from the Dallas Morning News, this article at MTV.com and this Entertainment Weekly article. Entertainment Weekly also spoke with Rush documentary filmmaker Scot McFadyen about Rush's snubbing who had this to say:
... "It's unfortunate," says Scot McFadyen, who co-directed the recent film Rush: Beyond the Lighted Stage. "We were hoping a lot more people in the [nominating] room had seen our documentary, and maybe that would have given them a different perspective on the band. But there are just some people that are holding out."

As disappointing as Rush's latest snub was, McFadyen wasn't necessarily surprised. "They've never been a critics' band. The industry people that are involved with the Rock and Roll Hall of Fame, Rush has never been cool enough for them."

Even so, McFadyen says he's spoken with some Hall insiders who support inducting Rush. "The same people that got Genesis in last year were pitching for Rush this year," he says. In fact, he predicts Rush could be nominated as soon as next year. "Rush doesn't need it, you know. But I think it would be nice." ...
While we were still digesting the news of Rush's continued exclusion by the Rock Hall on Tuesday, we received the welcome news later that day that the band will be awarded the Living Legend award at this year's Marshall Classic Rock Roll of Honour Awards. The event will be hosted by Alice Cooper (who was finally nominated for the Rock Hall) and take place November 10th at London's Roundhouse venue.
As if that wasn't enough, on Wednesday Billboard.com announced that Rush will be named this year's Legend of Live at the 2010 Billboard Touring Awards in New York City on Thursday, November 4th. Who needs the Rock and Roll Hall of Fame when you've got the Canadian Songwriters Hall of Fame, a star on the Hollywood Walk of Fame, a Classic Rock Living Legend award and being named the Legend of Live?... and that's just this year.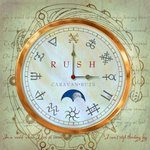 A few weeks ago the Rush Backstage Club made more copies of the CD version of the Caravan/BU2B single available for sale. You can also still buy digital copies of both Caravan and BU2B at this link. Several copies of the original release of the CD (all of them maybe) have BU2B as track 1 despite Caravan being listed first on the sleeve. Reader Will C purchased one of new versions and can confirm that for this printing the tracks are in the proper order. Caravan is still hovering close to the top 10 on the Mediabase Rock Chart, currently holding at #12.
A live version of Rush's Resist will be one of the 87 tracks included on an upcoming compilation from Rounder Records titled The Rounder Records Story. It's not clear whether the version of the song will be the one from Rush in Rio or from R30, although the Rio version is the more likely choice. The anthology releases on October 19th and you can pre-order your copy at this link.
Reader cschnebe let me know about a new book from Will Romano titled Mountains Come Out Of The Sky, The Illustrated History of Prog Rock. As the title suggests, the book details the history of progressive rock along with plenty of images and photographs, and Rush gets its own chapter on pages 166-179.
Bob Mersereau's new book The Top 100 Canadian Singles was just released this past week. The book compiles a list of the best Canadian songs as chosen by around 800 musicians, broadcasters, members of the music industry and fans. A few Rush songs made the cut including Tom Sawyer at #12, The Spirit of Radio at #25, and Closer to the Heart at #35 The book contains several interview snippets from musicians who made the list including Neil Peart. You can purchase a copy at this link.
KayvonTV is an internet TV show hosted by Kayvon Zahedi which features the host chasing down and interviewing various celebrities. Kayvon caught up with Geddy Lee and Alex Lifeson in Toronto not too long ago and you can check out his very short interview with the guys in this video (thanks stergios2112).
Reader RushFanForever was curious about why Canadian musician Ian Thomas thanks Geddy Lee of Rush for the use of his mellotron in the credits for his 1981 album The Runner. So he went directly to the source and posted at the Ian Thomas website forums. Here's what Ian had to say:
I do believe the mellotron you refer to may very well have been played by the multi-talented Hugh Syme on the Rush track "Tears." That mellotron was the best one I had ever seen over the years. It was a double manual and with a pretty comprehensive tape library. There us a greater story to that mellotron in that it was sold to Geddy by non other than the late great jazz pianist Oscar Peterson. Oscar, rest his warm curious soul, was always interested in any technology involving music and in particularly anything involving his love ... the keyboard. The songs that the mellotron were used on didn't make it to the record unfortunately, but my gratitude to Geddy's sense of generosity remained. and hense the credit. Those Rush boys are just plain ... good people. I have only seen snips of the new documentary, in particular a scene in Alex's family's kitchen where he is saying something to the effect of -" I don't want to go to shcool. I want to be a musician." Finding footage like that is truly extraordinary. I think I'll snare a copy of the doc fro fun. It looks really well put together. Sure Harmony would be good for LOGITECH - If you know anyone there tell them to get in touch with Anthem Entertainment as they have the publishing rights to that song.
You can read the entire exchange at this link.
Reader mattybro came across a humorous blog post at Asylum.com where the author recounts his experiences as a strip club DJ. One of the stories he tells has a Rush-related twist to it:
... "While immersed in the seedy underbelly of the strip club scene, I did learn a few important lessons. First: More girls are always better. My boss didn't care at all what the girl looked like. I remember him hiring this one lady. She chose the stripper name "Rose." I am not exaggerating at all when I say that Rose looked exactly like mythological rock titan Geddy Lee from Rush! I'm going to hell for this, but when she would dance, sometimes I would play "Tom Sawyer" and laugh to myself in the booth." ...
You can read the entire post at this link.
Reader Weezy put together a fun little slideshow where she models Rush t-shirts from every Rush tour. She calls it her Time Machine Tour of T-shirts and you can check it out at this link.
Musicians Friend recently conducted a 2-part, 20-minute interview with Rush producer Nick Raskulinecz. Nick describes how he ended up in the music production business and talks a good bit about Rush in the second part of the interview. You can check out part 1 here and part 2 here.
In last week's update reader A-CELL-OF-AWARENESS shared something interesting that he saw at the Columbus show. He had noticed that one of the camera operator's beltpacks had a sticker on it that said By Tour Inc. Reader cavesoficeman provided the following clarification:
I wanted to let you know that By Tour has been known as a business name for some part of Anthem's diverse business operations for some years. It was mentioned in legal papers (income/expenses) leaked/released during Al's Florida trials and tribulations. (By Tour is, as the name suggests, the travel and carry side of Rush's tour operations).
Here's Rush's awesome interview with John Roberts on CNN's American Morning yesterday:
That's all for this week. Have a great weekend everyone!