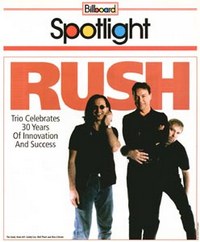 [Billboard Spotlight on Rush - 30th Anniversary: May 15th, 2004 -- Volume 116, Number 20]
Back in May of 2004 Billboard Magazine ran an amazing tribute to Rush in celebration of their 30th anniversary. The issue included Rush on the cover along with several articles, interviews and tributes. With all of Rush's recent press attention, John over at Cygnus-x1.net decided it would be a good idea to revisit this feature:
The collection of articles and tributes that appeared in that issue were heart-warming and inspirational to read and further solidified the amazing and influential career that Rush has been blessed with. So, with that in mind, I've transcribed all of the Rush-related articles that appeared in that edition of Billboard magazine. Additionally, I've scanned all the images that accompanied those articles as well as all of the tributes and advertisements for Rush that were listed.
You can check out this wonderful collection at this link. Many thanks to John for taking the time to do this.