UPDATE - 12/7@1:30PM: It turns out Geddy does have a planet too! Thanks icred for finding this.
Highlighting this past week in Rush news was the announcement yesterday of Rush's Malignant Narcissism as a nominee for the 50th annual Grammy Awards Best Rock Instrumental Performance category. It's the fifth such time that a Rush song has been nominated in this category although they have yet to win. Maybe this will be their lucky year? The Grammy Awards will be held on February 10, 2008, at the Staples Center in Los Angeles and will be broadcast live on CBS at 8PM. Rush's competition in the Best Rock Instrumental Performance category are Metallica's The Ecstasy Of Gold, Joe Satriani's Always With Me, Always With You, Bruce Springsteen's Once Upon A Time In The West and Steve Vai's The Attitude Song. So who do you think will win? Take the poll and let us know.
Fly Paper - the new Tiles release featuring Alex Lifeson - is now available for preorder and will be played on Progscape Radio this coming Tuesday. For more information read this post from yesterday.
Earlier this week Neil Peart supplied his fans with yet another news update on his official website. There's not much in the way of news however; it's just more of Neil describing his travels between shows on the European leg of the tour. It's an interesting read if you haven't checked it out yet.
Rush.com has a new video feature up in its Multimedia section called The Biggest Fans. Episode 1 features Alex Lifeson and his barbie dolls and is absolutely hilarious if not a tad bizarre. If you haven't seen it yet be sure to head on over to Rush.com and do so - it is not to be missed.
Cygnus-X1.net is sponsoring a holiday giveaway contest with a really cool Snakes & Arrows-themed prize package. If you haven't entered yet be sure to do so at this link.
Over the holidays, Canadian music channel MuchMoreMusic will be counting down the top 50 music videos of the '80s as chosen by viewers. Rush has 2 videos in the running; Subdivisions and Distant Early Warning. To vote go to this link.
We have some more confirmation regarding the Puerto Rico Rush show slated for April 11 at the Colise de Puerto Rico. According to reader Luis, at the Papa Roach show last week at this venue promoter Larry Stein confirmed that Rush had been booked for this date.
I have a cool update regarding the Rush to Fight AIDs project. For those of you who don't know, the project was an effort to collect toiletries and personal hygiene products for AIDs patients from Rush fans out on the Snakes & Arrows tour. The project was the brainchild of Rush fan Jessica; a volunteer at the Southern Colorado AIDS Project (S-CAP). The project was a huge success and garnered the attention of the band and their crew, who collected their own toiletries on the tour and donated them. Neil's buddy and riding partner Brutus recently commented on the Project in a MySpace bulletin he'd sent out via his MySpace page:
This is to all of you who may be travelling and staying in hotels on your journey. I found out about this cause when I travelled with Rush in Europe. Neil told me to collect all the shampoo, body wash, lotion and soap from the hotels we'd be staying at. Seeing as how I was doing that anyway.....(Hey! It was free, already) I had to ask him why. He told me that Patrick McLoughlin, the guy who does all the merch for the band , had organized an effort to collect these unguents and balms for an organization/group/ philanthropist called "The Rush to Fight Aids". The whole band and crew got into it and I guess bootles of bottles and bars were amassed. You'll have to go to their "MySpace" (Check out "The Rush to Fight Aids" on my friends list) to see the positive affect it had . They tell the story there much better than I could here. I think it's great that people like these take their time to help those in need and it didn't hurt a bit! I've already asked and been given forgiveness for keeping a keepsake from the Hotel de Paris....check out the slippers...but we all have our weak moments. Plus I get to smell nice for someone special. Not to make light however. This seems to be an easy way to make a difference in the life of someone who could use our help. Peace, out.

B
Well said Brutus. A big thumbs up goes out to Jess for getting the ball rolling on this project and making it such a huge success. And it's not over! You can still contribute in many ways. Just check out the project's MySpace page for details.
Dr Paul let me know that Rush's Snakes & Arrows was among the nominations for top 20 albums of 2007 according to the UK's Guardian. They did not make the Top 20 though.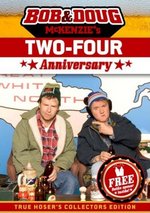 The Bob & Doug McKenzie Two-Four Anniversary special which aired on Canadian TV earlier this year and featured a guest appearance from Geddy Lee, is now available on DVD in Canada. The DVD has loads of extras too.
Rolling Stone Magazine's list of the Top 50 songs over 7 minutes long ... doesn't contain any Rush. Big surprise there. My guess is that if they ran a list of the Top 50 songs by a Canadian progressive rock trio Rush wouldn't be on that list either. Sheesh...
According to Canada's National Post, Toronto-based Iron Chef Susur Lee was recently spotted having dinner with another Lee - Geddy Lee in fact:
... This was not long ago at the bustling One restaurant in Yorkville, where the two Lees-in-a-pod were spotted "deep in conversation," as one spy puts it. At last, at last -- someone spouted when I passed on this tidbit to them-- the truth is out!Geddy and Susur are long-lost brothers!

Well, perhaps, only in a Farrelly Brothers movie.

What could have the world-famous Rush rocker and the Iron Chef-combating rock-star chef have been talking about? Well, we'll just let you caress your imagination about that -- but it could easily have been about their respective swings. Both Toronto-dwelling Lees are tennis-mad and have been known to play several times a week. ...
There's a Rush reference in The Onion's recently released book Our Dumb World Atlas. In the section on Canada there's a mark on the Canadian map with the caption:
Crowd from 1975 "Fly By Night" tour still waiting for Neil Peart to finish drum solo.
You gotta love The Onion! Thanks to coventry815 at the Rush Tour Forum for the heads up.
And did you know that both Neil Peart and Alex Lifeson have planets named after them? They do... but poor Geddy does not. :( Thanks to
C2112 for alerting me to this.
That's all folks. Have a great weekend!