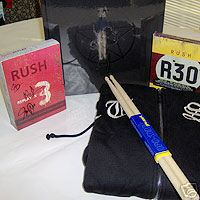 Rush.com put up this press release earlier today regarding a new eBay auction for the TJ Martel foundation:
Ebay auction for the TJ Martel foundation!

Columbia/Sony music industry executive Tony Martell, who was instrumental in the signing of Ozzy Osbourne and Stevie Ray Vaughn, among others, founded The T. J. Martell foundation in 1975, in memory of his son, T.J., a victim of leukemia. The T. J Martell Foundation has since raised more than $215 million over 30-years to combat the world's three most deadliest diseases. The T.J. Martell Foundation remains dedicated to raising funds for the innovative initial and ongoing research into the treatments and cures of leukemia, cancer, and AIDS at the leading eight research facilities throughout the United States. For more information the T.J. Martell Foundation visit: www.tjmartellfoundation.org

To bid Click here.
There's a really nice Rush package up for auction that contains signed copies of Rush Replay x 3 and R30; a set of Neil Peart special edition drumsticks; the complete tourbooks; and a Farewell to Kings hoodie. It's for a good cause, so if you have the means and the inclination, place a bid.