Friday, March 1, 2013
Rush and Neil Peart reference on tonight's episode of Jeopardy!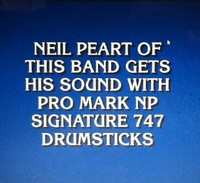 One of the $1600 answers on tonight's episode of the American quiz show Jeopardy! made reference to Rush and Neil Peart:
Neil Peart of this band gets his sound with Pro Mark NP Signature 747 drumsticks
The question of course was - What is Rush? The contestant - Craig - answered correctly. Thanks to Dave for the heads up and screenshots. Rush was also referenced on the show back in February of 2011.