Saturday, September 15, 2012
Rush Clockwork Angels tour Chicago open thread
UPDATE - 10/14@10:22AM: Here's a photo gallery from King Idea.
UPDATE - 9/27@7:14AM: Here's a review from JamBands.com.
UPDATE - 9/21@10:50AM: Here's a review from antiMusic.com (thanks RushFanForever).
UPDATE - 9/18@4:48PM: I'd mentioned in a Friday updates post a few weeks back that several Chicago area Rush fans held a big pre-show party and raffle at The Beer Bistro before the Chicago show, and just wanted to give a report on how things went courtesy reader/organizer Dan B. They ended up raising a whopping total of $3173.46 with all proceeds going towards a donation to the American Cancer Society in the memory of Neil Peart's first wife Jackie Taylor, who passed away from cancer back in 1998. A big thanks goes out from the organizers to everyone who participated/donated.
UPDATE - 9/17@9:05AM: John at Cygnus-X1.net posted a great gallery of photos from the show at this location.
UPDATE - 9/16@11:54AM: *** SPOILER UPDATE 2 *** Eric at Power Windows reports that a new rearscreen video was shown during the 2nd song of the encore. Details below the fold.
UPDATE - 9/16@10:10AM: Official photos from the show are now posted at RushShowPhotos.com.
UPDATE - 9/15@11:45PM: The setlist change mentioned in my last update has been confirmed; setlist A version 3.0. So we've had 5 shows and 5 different setlists! The complete setlist here (*SPOILERS*)
UPDATE - 9/15@8:58PM: *** SPOILER UPDATE 1 *** Reader wackostu is at the show and reports in the comments that the soundboard guy said that there would be another slight adjustment to the A setlist. Apparently they'll be swapping out one song with another that had been previously played on opening night but not since. There was no setlist photo to support this though, so we'll just have to wait and see for confirmation. Details below the fold.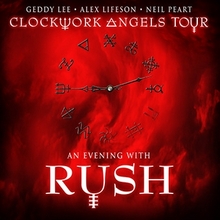 Rush's Clockwork Angels tour continues its trek through the Midwest tonight when they'll play the United Center in Chicago. It's expected that they'll be playing their Night A - version 2 setlist tonight - the same one that was played in Pittsburgh earlier this week. If they don't for some reason I'll be sure to post it here as soon as I'm aware. Chromey - the 1974 chrome Slingerland drum kit once owned and played by Neil Peart - is on display today for a charitable event at Vic's Drum Shop (345 North Loomis Street) until 5PM. So if you're in town looking for something fun to do until tonight's show, go see this amazing piece of rock history, and have your photograph taken behind it. Proceeds will go to benefit Richard "RC" McWilliams, who is suffering with Invasive Skin Carcinoma (Skin cancer) and from deteriorating spinal discs. For everyone going to the show - have fun, be safe and make sure to share your reports, reviews, and photos with us. RUSH!!
Date/Time: Saturday, September 15th @ 7:30PM
Show Number: 5
Venue: United Center
Place: Chicago, IL
gallery: [view] [upload] [YouTube videos]
reviews: [reviews] [setlist]
WARNING: SPOILERS AHEAD!! Click READ MORE below to access spoiler content