Friday, December 30, 2011
Updates and other random Rush stuff: year-end edition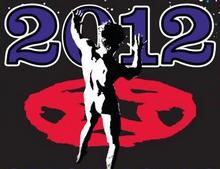 Back in 1976 Rush released their breakthrough 2112 album, which was to become one of the most important prog-rock albums of all time. Since then the album's name and title track have become a sci-fi pop-culture fixture; showing up whenever a need arises to reference some far-off future year, random hotel room number, phone number or passcode. It's safe to say that when Rush was recording the album they had no idea it would have such a far-ranging impact, nor did the notion ever cross their minds that we'd still be talking about it 35 years later on the verge of ringing in the year 2012 - the 2112 pre-centennial! Before you know it we will be plunged into a mysterious cosmic war, only to emerge under the light of the totalitarian Red Star of the Solar Federation 50 years from now in 2062, ushering in an era of peace ... until the year 2112 when one lone individual makes a wonderful discovery in a cave on the outskirts of Megadon - a discovery that changes everything... But before all that happens and we ring in 2012, let's not forget about 2011 - which was yet another landmark year for Rush. The year saw another highly successful Rush tour which gave birth to the band's first ever full-length concert video shot entirely in the US; they wrapped up work on their highly-anticipated 19th studio album - Clockwork Angels; Moving Pictures celebrated its 30th anniversary which precipitated the release of a 5.1 remix of the album; and Neil Peart released another book and another instructional DVD. And those were just a few of the highlights. So let's crank up the GeFilter and take a look back at the year in Rush news in a little more detail.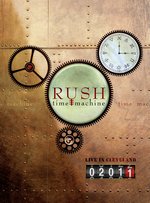 The year began with preparations for a second leg of Rush's Time Machine tour. The theme behind the tour was the band's showcasing of both the old and the new; the old being the performance of Rush's Moving Pictures album in its entirety, and the new being the debut of the 2 new tracks Caravan and BU2B - both to be featured on their upcoming Clockwork Angels album. The tour would see the band heading to several North American cities that had been missed on the 2010 leg, along with a stint across the pond which included the band's first trip to Ireland. On the US leg the band decided to film their April 15th date in Cleveland, OH - the city which broke the band in the US back in 1974. The filming produced the band's 7th full-length concert video which was titled Time Machine 2011: Live in Cleveland and released on November 8th.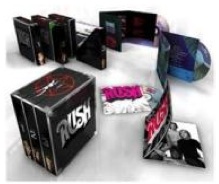 Part of the reason Rush decided to play their Moving Pictures album in its entirety on the Time Machine tour was to commemorate the 30th anniversary of its February 12th, 1981 release. They also celebrated by releasing a 30th anniversary deluxe 5.1 remix edition of the album in early April. The success of this release prompted the band to release remastered versions of their entire Mercury catalog later in the year as 3, 5-album box sets - each celebrating one sector of their career. These Sector box sets included 5.1 versions of Fly By Night, A Farewell to Kings and Signals.
In addition to all of their various Rush-related work, the members of Rush also kept busy with numerous side projects - especially Neil and Alex. In the Spring Neil released his 5th full length book - Far and Away: A Prize Every Time, and his third drumming instructional video - Taking Center Stage: A Lifetime of Live Performance - in the Fall. He also made an appearance on Letterman for drum solo week; had a jam session with Stewart Copeland, Danny Carey and Les Claypool; made a surprise appearance at KoSA; and mourned the loss of one of his mentors - jazz drumming legend Freddie Gruber, who passed away at the age of 84 in October.

Alex Lifeson was his normal busy self with a number of side projects in 2011. He played the role of Dr. Figg in the indie film Irvine Welsh's Ecstasy, which released in the Fall. He also was involved with the soundtrack to the spy thriller The Double, playing guitar throughout the film and composing the outro track - Don't Look Back. Alex also collaborated with a number of other artists including the David Barrett Trio, Jason Plumb and Tom Cochrane. Outside of movies and music, Alex participated once again in the Brush of Hope charity auction, raising $7000 with his painting Sun Dance.
Although not quite as busy as his bandmates, Geddy Lee kept himself occupied with the Grapes for Humanity charity where he is a member of the board of directors. The organization even created a scholarship in his name and their annual auction raised over $50,000 for charity. Geddy also worked to get funding and writers in place for the film adaptation of Dave Bidini's Baseballisimo, for which he obtained the rights to last year.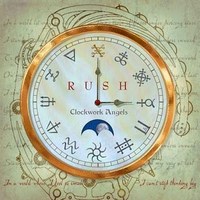 Once the band finished up the Time Machine tour they once again began to focus their efforts on finishing up their Clockwork Angels album - work which they had begun in early 2010 with the recording of Caravan and BU2B. In late August they signed a deal with Roadrunner Records and then hit the studio in October, wrapping up the recording just before the Holidays. They will mix the album after the New Year and plan to release it in the Spring with a tour to follow.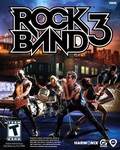 Now back to the present day for a moment. Not much of note occurred this past week other than Harmonix announcing that Rush's 2112 would be made available as a download for Rock Band next week in celebration of the dawn of 2012. For all the details along with a preview video check out the Rock Band website, and discuss it on the Rock Band forum. Rush's 2112 was the centerpiece of last year's Guitar Hero: Warriors of Rock and several other Rush tracks have been made available for both Rock Band and Guitar Hero games over the past few years. And just a couple weeks ago a Rush 3-pack was released for the game which included The Spirit of Radio, Fly By Night and Caravan.
Earlier this week, the Ultimate Classic Rock website passed the milestone of their 2,112th post. To celebrate the occasion they decided to take a look back at Rush's 1976 breakthrough 2112 album. The album seems to be getting a lot more attention now that we are fast approaching the 2012 2112 pre-centennial celebration. JAM! included the album's iconic starman image in its gallery of the 50 coolest band logos . There's this advertisement for Czech automaker Skoda's Fabia car, which features a street drummer and highlights the fact that the car has 2,112 different color combinations. And there's this satirical article at SplitSider.com titled My Ex-Girlfriend Reviews The Mix CD I Made Her in High School, by Pedro Salinas (thanks Tamra). The fictional mix tape contains 2112 along with several other Rush tracks. In fact, the only non-Rush track is Marvin Gaye's Sexual Healing. :)
RushFanForever let me know that Geddy Lee made Noisecreep's gallery of Rockers That Look Like Grannies. And UK digital radio station Planet Rock named Rush the Best Live Act of 2011 in their end-of-year poll. Rush is also up for several Ultimate Classic Rock year-end awards too, so go vote for Rush!
The Trans-Siberian Orchestra has been touring recently including some Canadian dates where they have been dropping in a few Rush licks into their set. Here's a clip from their Ottawa show last month where they play a little Rush at about the 2:40 mark (thanks Brad P).
Now let's set the GeFilter on future and look ahead to an exciting 2012 where we'll have Rush's first new album since 2007's Snakes & Arrows to look forward to along with yet another tour. On top of all that, I'm sure the guys will have several side projects in the works and will continue all of their charitable causes. Next year will see the 10th anniversary of the release of Vapor Trails and I wouldn't be surprised if we will finally see that remix that was first talked about earlier in the year. Before you know it, it will be 2014 and we'll be celebrating R40!
And with one more look back in time, here's Rush playing 2112 live in Passaic, NJ back in 1976.
Here's looking forward to a great 2012! Have a safe and happy New Year everyone!!