Friday, July 29, 2011
Updates and other random Rush stuff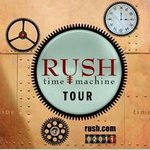 Today marks a monumental day in the annals of Rush history. Not only is it Geddy Lee's 58th birthday, but it's also the 37th anniversary of Neil Peart joining Rush. We're only 3 years away from R40! In the meantime we have a lot to look forward to from the band including a Rush live DVD coming out this Fall and - if all goes according to plan - a new album followed by a tour next year. We'll have to wait a little longer than we had hoped for the Time Machine 2011: Live in Cleveland DVD as its release date was pushed back one month to October 25th earlier this week. We are still lacking several details too; such as whether the DVD/Blu-ray will also contain a CD. My guess is that it won't, and the CD version will end up being released separately at a later date. Hopefully we'll get some confirmation on that in the near future. It looks like Rush sound engineer Rich Chycki is enjoying working on the DVD according to this tweet from over the weekend:
Listening to #Rush - Free Will, Live in Cleveland. Crushing solo section! #unbelievablyawesome
And Chycki also posted a couple of interesting tweets to his Twitter feed recently that may or may not be Rush-related. There's this one from back on July 16th which hints that Chycki might be doing some groundwork in preparation of the band hitting the studio to resume work on Clockwork Angels this Fall:
Off to test possible studio drum rooms for a new fall album production.
And then there's this intriguing tweet from earlier this week:
Reviewing client's mid-70s multitracks. I remember when these came out. Great vibe -- I'm kinda feeling a bit old tho :-/
Could said client be Rush? Hmm... Chycki has many clients, but it sure would be cool if he's working on some more Rush 5.1 remixes.
Last weekend the Los Angeles Times posted an interview with Neil Peart where certified strength and conditioning specialist James Fell spoke with Neil about how he stays in shape for touring. Neil talks about skiing, snowshoeing and doing yoga in the interview:
... "Stamina is the force that drives the drumming; it's not really a sprint," ... "The stamina aspect is great because you don't lose that with age so quickly. I know there will be a day when I just can't do it, but at 58 years of age it hasn't come yet. I can still play as fast and as powerful and as long as I ever could." ... "If it's cross-country ski season, I'll be out doing that, or snowshoeing up in Quebec," he told me. "In my California home, I go to the local Y and I like doing yoga. It's been hugely beneficial to me in injury avoidance." I know some yoga fans who are going to love reading that. ... "Playing a three-hour Rush show is like running a marathon while solving equations," he said. "My mind is as busy as it can be, and so is my body; full output all the time." ...
You can read the entire article/interview at this link. The article garnered a lot of attention in the press including this Runner's World article on drumming and running which makes reference to the interview.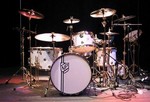 Speaking of Neil, the Custom DW Collector's Series Maple drum set that Neil Peart played for the Buddy Rich Memorial Scholarship Concert at the Hammerstein Ballroom in New York City back on October 18, 2008 went up for auction on eBay yesterday. The kit is currently owned by Dales Drum Shop who was offered the opportunity to purchase the kit following the show back in 2008 since the shop's owner Dale Wise had been Buddy Rich's drum tech for several years in the 1970's. The starting bid on the kit is $10,500 and you can place your bid at this link
. Thanks to Scott G for the heads up.

As part of his continuing series of Rush road crew interviews, Paul at The Canadian Music Scene posted part 1 of his video interview with legendary Rush producer Terry Brown earlier this week. In this portion of the interview Terry talks about his beginnings in the music industry, who he worked with, where he worked, and what roles one plays while working their way up the ladder. You can check out the interview at this link. Parts 2 and 3 of the interview will be posted in the near future. And in case you missed them, you can see all of Paul's other Rush road crew interviews at his website here.
Alex Lifeson is among the artists featured in a new book from Hal Leonard Publishing titled The Modern Guitar Rigs: The Tone Fanatic's Guide to Integrating Amps and Effects. Alex also topped Gibson.com's list of Canada's Top 10 Guitarists for a feature earlier this week.
American alternative rockers Weezer kicked off their summer tour yesterday where they will continue the format of last year's Memories tour when they ran through their 1994 debut album and 1996's Pinkerton in full. Rolling Stone reports that drummer Patrick Wilson pushed for the idea after seeing Rush play all of Moving Pictures in L.A. last summer. You can read the article at this link (thanks RushFanForever).
Prog rock legends Yes hit the Red Rocks Amphitheater earlier this week and to celebrate the occasion Tuesday's edition of The Denver Post's Reverb Magazine posted their list of the 11 most influential prog rock records. Coming in at #10 was Rush's Hemispheres.

The Rush EuCon 2011 European Rush fan convention will take place on Saturday, October 1st at The Ferry in Glasgow, Scotland from 3PM until midnight. The event is officially recognized and supported by Rush's management Anthem/SRO and all proceeds will be donated to the MS Society. The convention will feature Rush tribute band Counterparts along with classic rock covers band Joe's Band, rare Rush videos and music, a Rush-themed raffle/auction for charity, a Rush pub quiz, and other Rush-themed surprises. Food and drink will be available throughout the day. For all the details and information on purchasing tickets check out the Rush EuCon Facebook page or view the flyer here.
Netherlands-based reader Marcel let me know that Chicago-based progressive jam rock band Umphrey's McGee played Rush's Tom Sawyer at the All Good Festival in Masontown, WV this past July 15th. Here's a bootleg YouTube video of the performance.
David Leonard of the Quill and Quire writes a generally positive review of Neil Peart's latest book Far and Away: A Prize Every Time in the July, 2011 issue of the magazine. You can read the review at this link.
Reader Will C let me know about a short article at the Verum Serum blog where they pit the lyrics of Sting against those of Neil Peart - specifically the lyrics of The Police track Sychronicity II and the Rush track Red Barchetta. You can read the article at this link.


Speaking of The Police, A couple of weeks ago Neil Peart posted a video to his home page which featured an April jam session at Police drummer Steward Copeland's home studio in Los Angeles. Neil, Copeland, Tool drummer Danny Carey and Les Claypool of Primus put together a zany, jazzy track they called Count Drumula! which features all four guys trading off on drum duties along with Claypool on a stand-up bass and Carey playing a trombone. The new supergroup was jokingly labeled Carey, Claypool, Copeland, Peart (CCCP) on Neil's home page alongside a flag of the old Soviet Union. In addition to the NeilPeart.net home page, the video can now be seen on YouTube at this link.
That's all for this week. Have a great weekend! Happy birthday Geddy!!