Tuesday, November 30, 2010
Rush 2011 Time Machine Tour pre-sale info and open thread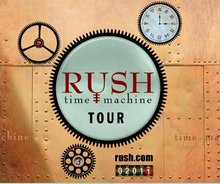 UPDATE - 12/3@11:16AM: TRIBUTE seems to work for all 3 dates for the Live Nation pre-sale. That password will likely work for all of the Live Nation pre-sales for the upcoming dates too.
UPDATE - 12/3@10:52AM: The Live Nation pre-sale password for the Hershey date is TRIBUTE (thanks lilvictory).
UPDATE - 12/3@10:23AM: The Music Today pre-sales should be ending at 12PM today and the Rush VIP/CITI pre-sales will be ending at 5PM. Various Live Nation, venue and radio pre-sales all kicked off at about 10AM this morning too. If anyone has password info for these, let us know. It looks like the password MOVING works for the Detroit show (thanks craigl). And there's a venue pre-sale for the Hershey date using a password of HERSHEY (thanks Professordrums).
UPDATE - 11/30@10:17PM: Everything is in place for the Hershey, Detroit and Baltimore pre-sales tomorrow at 10AM. Both Ticketmaster and the Rush Music Today site now list all three dates. For information on how all of the various pre-sales work, be sure to visit the ticket sales and pre-sales guide. For those of you planning to purchase tickets, good luck tomorrow!
UPDATE - 11/30@6:38PM: The Hershey, Detroit and Baltimore dates are now listed over at the Rush Music Today site. That's a good sign since - in some cases - on the last tour this didn't occur until minutes before the tickets went on sale! Rush and Music Today seem to have a much better handle on things this go-around.
UPDATE - 11/30@2:41PM: The Hershey date is now listed at Ticketmaster along with the Rush VIP and CITI Cardmember pre-sale info.
UPDATE - 11/30@1:55PM: The Baltimore date is now listed at Ticketmaster along with the Rush VIP and CITI Cardmember pre-sale info (thanks timintey).
Rush sent out another email in the wee hours of the morning confirming that fan pre-sales through Music Today will begin tomorrow at 10AM for the Hershey, Detroit and Baltimore dates. Rush VIP and CITI Cardmember pre-sales through Ticketmaster should also begin tomorrow for those 3 dates, although so far only the Detroit show is listed at Ticketmaster. They also released pre-sale info for the Rotterdam show. From the email:
... PRE-SALE for ROTTERDAM, HOLLAND show just announced for May 27th at the Ahoy Arena:

Link: http://www.ticketmaster.nl/html/connect.htmI?EVNT=RU270511&brand=nl_livenation
Password: RushNL

Window: Opens Wednesday, December 1 at 5:00 PM (local time/CET) for 1 full day (24 hours) with a ticket limit of 4 tickets

General On-Sale begins Friday, December 3 at 10:00 AM (local time/CET with a ticket limit of 8 tickets, available at www.livenation.nl

PRE-SALE TICKETS & PACKAGES FOR NORTH AMERICA:

Pre-sales for HERSHEY, DETROIT & BALTIMORE start this WEDNESDAY, DECEMBER 1 at 10 AM!

The Rush Fan Club Tickets can be purchased at rush.musictoday.com

Please note: Rush Fan Club tickets are available during the presales only.

Reserve the best seats in the house now through our special fan pre-sale. Pre-sales only last three days, and only certain cities/dates are currently available for pre-sale, more pre-sales added each week. Check back if you don't see your date. At the end of your ticket purchase, you will have the opportunity to pre-order EXCLUSIVE Rush Fan Club merchandise.

In addition, when you order tickets and an exclusive merch item you will be automatically entered to win a meet and greet with members of the band at your show (one winner plus guest per city).

Please note if you choose the Music Today fan pre-sale package, to access ticket pre-sales you must first register for the fan community. Registration is FREE. You will have to register with the Music Today site BEFORE completing your ticket purchase so we suggest you do this before the on-sale window opens at 10AM local time.

Rush Time Machine Package can be purchased at http://www.ticketmaster.com/Rush-tickets/artist/807344

The Time Machine Package includes:

* One premium, reserved ticket located within the first 15 rows of the stage
* Copy of Rush - Classic Albums - 2112 and Moving Pictures DVD (the making of 2112 and Moving Pictures)
* Rush Caravan/BU2B CD single
* Specially Designed Tour Shirt (exclusive design, available to ticket packages only)
* Exclusive Tour Poster (numbered, limited)
* Official Time Machine Tour Program
* Set of Official Rush Guitar Picks

In the US, Citi® cardmembers will have access to pre-sale tickets through Citi's Private Pass® Program beginning December 1st in select markets. For complete presale details visit http://www.citiprivatepass.com.

For a full list of shows and general ticket information, please visit www.rush.com
For those of you not familiar with the pre-sale circus, I've put together a guide to ticket pre-sales which you can check out at this link. It'll tell you the differences between the various pre-sales, how they work, and what you will need to do to prepare for them.
Related Posts:
[Rush 2011 Time Machine Tour North American dates announced]
[Rush Time Machine Tour Dublin pre-sale; Helsinki & Sweden added]
[Rush Time Machine Tour 2011 UK/Ireland pre-sales open thread]
[Rush Time Machine Tour 2011 official announcement!]