Friday, April 30, 2010
Updates and other random Rush stuff

The big news of the past week was the US and world premiere of the Rush documentary Rush: Beyond the Lighted Stage last weekend at the Tribeca Film Festival in New York City. The premiere was a big red carpet affair attended by filmmakers Sam Dunn and Scott McFadyen, Geddy Lee and Alex Lifeson, a few big-name stars including Kiefer Sutherland and Sebastian Bach, several music industry and radio folk including Cliff Burnstein, Eddie Trunk and Donna Halper, and - of course - a bunch of crazy Rush fans. Over the past week we've been hit with a flurry of news covering the documentary including several interviews with the filmmakers as well as Rush themselves. You can check out all the coverage of the premiere including photos, videos, reviews, interviews and news articles in this post. And to listen to Geddy and Alex discuss the documentary on the radio interview circuit this week, check out this post. The film is also currently the favorite to win the Tribeca Film Festival Heineken Audience Award.
Last evening Rush: Beyond the Lighted Stage received its Canadian premiere at the opening night of the Hot Docs Canadian International Documentary Festival in Toronto. Along with filmmakers Sam Dunn and Scott McFadyen, both Geddy and Alex were in attendance at the premiere and stuck around for the Q&A afterword. Also reportedly in attendance were former Rush producer Terry Brown, Rush lighting director Howard Ungerleider, Rush manager Ray Danniels, Rush photographer Andrew MacNaughtan, Kim Mitchell, and members of both Geddy's and Alex's family.
You can check out the official trailer for the film at this link along with these 2 preview clips. The documentary's official website was launched a couple weeks ago and reports that the film will be shown in limited release to select theaters on Thursday, June 10th. A list of Canadian theaters that will be showing the film was just released this morning at the Banger Films blog. Last week we learned that the documentary will get its television premiere on VH1 and VH1 Classic on June 26th. The DVD and Blu-ray will contain about an hour of bonus footage. They are slated for release on June 29th and both are now available for pre-order (DVD, Blu-ray). Reader emajor7th wanted me to alert any RIABers out there that may be attending the Friday midnight showing of the film at Tribeca that they'll be meeting ahead of time at McSorley's located at 15 E 7th Street, between 2nd and 3rd Avenues.
Geddy Lee and Alex Lifeson hit the radio interview circuit this past week to discuss the documentary, the tour and their new material. The guys revealed several very interesting bits of information in these interviews. In one interview with New York City's Q104.3 that aired Tuesday, Alex Lifeson stated the following regarding the 2 new songs that they recently recorded:
... we'll release one to radio in about a month and then the two of them will be released around the same time at the beginning of the tour ...
Geddy Lee added this description of the songs in an interview with Spike of 94 WYSP in Philadelphia Tuesday:
... It's hard, it's fresh. They're pretty hard hitting. They're pretty musically ambitious. One of the songs is longer... kind of a cross between Far Cry and Monkey Business. Another one is just the shorter kind of super energy song. ...
In that same interview Geddy shed some light on why they didn't play at the Winter Olympics:
... We had an opportunity to play but there were all kinds of crazy rules going on about lip-synching and all stuff like that and that's just not our bag, man. ....
You can listen to several of the radio interviews from the past week in this post and in the player below.
There's also this new Alex Lifeson interview at Gibson.com that was posted earlier today. Alex reiterates much of what was said in the radio interviews but also adds several details regarding the recent recording of the 2 new songs mentioned above including the studio where they were recorded:
... We are using Blackbird Studios - great studio. Really, really good studio. Our producer, Nick Raskulinecz, lives here. He moved here from Los Angeles last year and, unfortunately, in Toronto there are no good drum rooms. Most of the great studios that used to be there are gone. There are a couple still left, but it was a question of where we would record drums more than anything else. We thought about doing it in L.A. Neil lives there. It would be nice for him to be home while we were working, but those studios weren't available either and Blackbird was, and Nick had had some experience there and used it quite a bit, actually. And it's a great place. ...
Nick Raskulinecz talks about his move back to Tennessee in this recent Nashville Scene cover story and also describes how it was to work with Rush:
... Standing in the room with Neal Peart and physically guiding him through fills and cymbals I want him to hit at specific times, and he's watching me like a hawk, and when it's over just high-fiving and going, 'Yes!' ...
Thanks to RushFanForever for locating this article and the Gibson interview.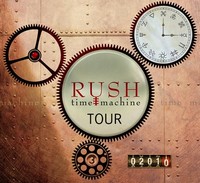 The Rush Time Machine Tour pre-sale frenzy continued this past week. A total of 10 shows began various pre-sales this past Tuesday - most of which have now ended. General ticket sales for 4 of these shows will start tomorrow with the Salt Lake City, Wichita, Bristow, Atlanta and both Florida shows going on sale today. Pre-sale information for next week will likely be announced over the next few days for the remaining 2 shows in Tulsa and San Antonio. Stay tuned to the tour page for the latest updates, pre-sale times and passwords.
Last Friday I reported how Toronto casting agency Jigsaw Casting had posted a casting call to their Facebook group page last Wednesday afternoon calling for Rush band member look-a-likes ages 15-19 for a short mock-u-mentary film on the early days of Rush. I speculated that this film may be planned for use as part of Rush's stage show on the upcoming Time Machine Tour. Since my original post I've learned that Rush has worked with Jigsaw Casting in the past on the Snakes & Arrows tour and this short film is indeed slated for use on the Time Machine Tour. The shoot is scheduled to occur in Toronto from May 11-18th. I can't wait to see what they come up with!
Longtail Distribution has just re-issued the Rush: Backstage Secrets DVD after replicating it to DVD-5 media. This 5-part documentary follows various members of the Rush road crew during a typical day out on the road with the band. It was shot in High Definition and Dolby 5.1 surround audio during the Canadian leg of the 2007 Snakes and Arrows tour. The DVD comes packaged with all 5 parts split onto 2 discs. You can purchase a copy of the re-issue directly from Longtail at this link or through Amazon at this link. There are currently no plans for a Blu-ray release. Thanks to brihar73 for the heads up.

Tomorrow is the deadline for the RIAB/Quotidiana Vocabulary Contest that I'd first mentioned several weeks ago. Simply identify as many Rush words as you can in Patrick Madden's essay Remember Death, then send your list in an email to pcmadden3@yahoo.com with RIAB Vocabulary Contest in the subject line. The winner will get a signed copy of Quotidiana plus a rare 45 single and an RIAB bumper sticker. Two runners up will also get rare Rush 45s and RIAB bumper stickers.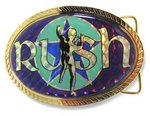 The Rush Backstage Club is running a new contest where you could win a vintage Rush Hologram Belt Buckle. The contest ends on May 14th and you can sign up to enter at this link.
It's no secret that Geddy Lee is a huge baseball fan, and now that baseball season in full swing you can often see him perched behind home plate in his usual seats at Toronto Blue Jays games. The Jays were in town Wednesday night and Geddy can be spotted in this clip (thanks hermy).
Speaking of baseball and Geddy Lee, Canadian musician/writer Dave Bidini - who inducted Rush into the Canadian Songwriters Hall of Fame not long ago - wrote a recent piece for the National Post involving baseball and his friend Geddy Lee:
... The 2010 baseball year arrived early for me when Janet told me that a tall, thin box had arrived in the mail. Opening it, I drew out a blonde maple bat, sent courtesy of Ottawa's MapleBat Corp, one of major league baseball's main suppliers. A fellow there had read my book about Italian baseball, and engraved my name, as well as the Italian teams' - the Peones -on the head of the Rideau Crusher.

The next morning, I went to meet the headmaster of Toronto's music-baseball cabal, Rush's Geddy Lee, at Caplansky's Deli on College Street. Of course, I brought the bat with me. Climbing from a friend's car, I noticed it was raining, so I pushed the bat under my long winter coat and walked into the deli, where I swung it around while approaching my friends' table. A few minutes later, the police arrived.

"Does anyone in here own a bat?" said one of them, even though, because it was morning, we were the only ones in the deli. "I do!" I said, proudly reaching for the Crusher, which lay on the banquette beside me. "Put the bat down, sir," said the officer. "But, it's my special bat," I said, before doing as told.

You could see what the officers were thinking: "Why is this thug so goddamned in love with his bat?" and "Holy geez, it's Geddy Lee." I convinced them that I hadn't intended to use the bat as part of an early morning brisket heist, and, after awhile, they left. ...
Thanks to RushFanForever for the heads up.
RushFanForever also located this feature article at Fender.com which celebrates the 50th anniversary of the Fender Jazz Bass and prominently features our favorite Fender Jazz Bass player, Geddy Lee.
Champion bicyclist and Rush fan Lance Armstrong is currently racing in the Tour of the Gila bicycle race in New Mexico. From a twitter post earlier this week:
Made it to Silver City. #nowplaying Rush - Tom Sawyer. That's right. 7:40 PM Apr 27th
Thanks to Armitage2112 for the heads up.
Here once again is the trailer for Rush: Beyond the Lighted Stage.
Have a great weekend!