Tuesday, March 31, 2009
New article discusses the snubbing of prog rock by the Rock Hall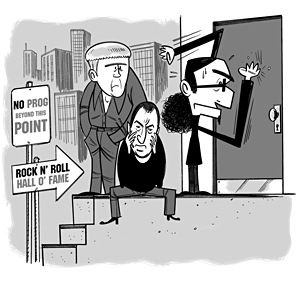 [Why the Rock Hall says: No Rush for you!]
UPDATE - 4/1@10:18AM: Here's a great article at Fox News (thanks marty from clayton) that does a wonderful job of explaining the important distinction between the Rock and Roll Hall of Fame Foundation - the entity which selects inductees every year - and the Rock and Roll Hall of Fame Museum itself.
MSNBC posted a great article yesterday titled Why the Rock Hall says: No Rush for you! by Tony Sclafani which discusses the snubbing of Rush and other progressive rock acts by the Rock and Roll Hall of Fame selection committee. The author puts forth the question So who picked Run-DMC over Rush? and goes on to give a short history of the Rock Hall and its process for selecting inductees. The president and CEO of the Rock and Roll Hall of Fame Foundation, Joel Peresman, is interviewed and addresses the absence of progressive rock acts:
... "Besides Pink Floyd, we really don't have much (progressive rock) in the Hall of Fame," Peresman continues. "We realize that. And we're taking a look to try and address some of those holes that we have in our place. So we just have to take a look at are we doing something right, wrong or indifferent." ...
I'm not sure I believe him. We'll see I guess. The article closes with this piece from Scott Rowley, the editor of the UK's Classic Rock magazine.
..."Rush and Yes and ELO are as good and as loved and as worthy as most of the acts in the Hall," noted Rowley via e-mail. "I think it's very damaging to the Hall of Fame's credibility to continually ignore bands that they perceive to be on 'the fringes,' whether they're prog, punk or metal acts. It makes you wonder if the selection committee is actually run by music fans.

"We're at a weird place in rock history where things aren't as compartmentalized as they used to be - where people used to define themselves as mods or rockers or punks or metalheads. Nowadays people have access to everything and pick what they like. The idea of 'a canon of rock music' - established and defined by a musical elite - seems more and more ridiculous and untenable."
Well said. The 2009 Induction Ceremony takes place this Saturday in beautiful Cleveland, OH. Thanks to RushFanForever for the heads up.