Thursday, July 31, 2008
Neil Peart news update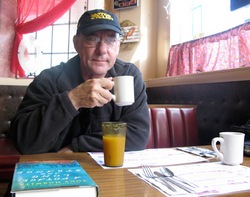 [NEWS, WEATHER, and SPORTS - July, 2008: Independence Day]
Now that the tour is over, Neil Peart has taken some time out to update the News page on NeilPeart.net. As usual, Neil spends most of the time detailing his motorcycle travels between shows but he had these interesting observations regarding the Atlantic City show:
... The arena in Atlantic City was inside a garish casino, where the management held back (denied us and our fans) the front section of seats. Those were "comped" to the "high rollers" (by definition, big losers), and thus we looked out from the stage at the first few rows (the ones we could see most) filled with people who had no idea why they were there except that it was free.

In contrast to our real fans farther back, who would mortgage their Hemispheres picture discs, and perhaps internal organs, to get closer to the stage, we were confronted by mild curiosity at best, and at worst, rude indifference. As the show went on, we started to see empty seats where bored big losers had slipped away, a woman looking down and texting through whole songs, and a pair of slack-jawed, sulking teens (the Beavis and Butthead of the Guitar Hero generation-as Cartman from "South Park" says in the hilarious sample that Geddy uses in "The Trees," "Real guitars are for old people") actually yawning. Anyone would agree that yawning is not appropriate behavior at a rock concert. (Vomiting, yes, but not yawning.)

These casino specimens are only noteworthy because they represent such an utter contrast to the audience around them, and to the front rows every other night-smiling, singing, dancing, and cheering people pressed along the barricade and stretching to the far distance. Several nights this summer, during the opening song, "Limelight" ("Living on a lighted stage, approaches the unreal"-still so true!), especially when we were playing outdoors and I could see everybody, I couldn't help shaking my head in disbelief at the sheer numbers of people out there. "Unbelievable," I thought, "All of those people spent their money and their time, on this night in this place, to come and see us."

That realization is somehow humbling-you feel you have to try to earn that, because it's obvious that those people deserve the best you can give them.

A couple of years ago my father sent me an anecdote about baseball great Joe DiMaggio, telling how a journalist asked The Yankee Clipper why he went out and played so hard every day. Joltin' Joe replied, "There is always some kid who may be seeing me for the first or last time, I owe him my best." Dad added that this attitude reminded him of someone else he knew, which made me feel good. ...
Go Neil!! Well said. Neil goes on to amusingly describe his experience of going commando (riding sans helmet or jacket) on Block Island and then waxes philosophic on helmet laws and riding safety in general. He finally concludes with the following:
... In almost 20,000 miles on the bikes this summer, and 24,000 last year, I and my various riding partners had just enough misadventures to be able to say, "Adventures suck when you're having them," and to laugh about them later.

The forty-nine shows (added to the sixty-four last year) were exhausting, all right (and some of the rides, too), but satisfying, on the whole. Alex and Geddy and I were talking before the Atlanta show, one of the final ones, and agreed that the overall quality of our performances this summer has been better than ever before-that's something to be able to share, after all these years. The audiences, as I wrote last summer, were "wonderfully large and unbelievably appreciative (adjectives interchangeable)", and-crucially-we remained mostly healthy. (Though we all had our sufferings, and toward the end, I lived in a world of hurt. My days began and ended with a couple of Bufferins, which almost rhymes with "sufferings.")...

... And now, as our traveling circus folds up its tents once again after a successful season, crew members, buses, and trucks go their separate ways, and the gear goes back into the warehouse, I still have many notes and Action Self-Portraits that haven't found their stories yet. But that's all right-as Ernest Hemingway once advised writers, "Always stop working when you know what's coming next."

For now, I look forward to a long, slow recovery, and to a whole series of Independence Days. They will be sweeter for being so hard-won.
Another wonderful update from Neil. I have a feeling it'll be a while until his next one. :)