Friday, August 31, 2007
Updates and other random Rush stuff

Rush came to my hometown of Cleveland last night. They'll continue their trek across Ohio over the Labor Day weekend hitting Columbus and Cincinnati. I had a blast at the show and got to meet several folks from the site there and beforehand - thanks to everybody who stopped by to say hey; it was nice to put some faces to names. A special thanks to everyone from the Rush Tour Forum who stopped and said hi at the Winking Lizard Tavern before the show. I'm stoked because I got to sign the rushtour.com banner (which is a challenging task - no room left!).
The tour continues to do very well in terms of sales and attendance. The latest issue of Billboard contained sales figures for the 2 Washington shows, the Red Rocks show and 2 of the California shows. The July 20th White River show garnered $638,462 in sales and the attendance was 13,689 out of a capacity of 15,552. The July 21st Clark County show generated $581,898 in sales and had an attendance of 10,986 out of a capacity of 13,188. The August 3rd Concord, CA show made $529,150 and the attendance was 9,775 out of a capacity of 10,916. The August 1st show in Mountain View grossed $507,546 and was attended by 9,101 fans out of a capacity of 11,000. And the August 8th Red Rocks show sold out! It garnered $674,504 in sales and filled its capacity of 8,753. Thanks to Scott_PA for the info.
Alex Lifeson celebrated his 54th birthday this past Monday. For last week's poll I asked you where you would place Alex Lifeson on the list of the best all-time rock guitarists. The results are in and pretty much everyone (96%) thinks that Lerxst should at least make the top 20. 86% of us think he's in the top 10, 64% think he's in the top 5, 38% think he's in the top 3, and 17% think he's numero uno.
September was a busy month in Rush history; 6 studio albums and one live album were released in the month of September. One of these is Rush's 5th studio album A Farewell to Kings which will celebrate it's 30th anniversary next month (the exact release date is unknown). So what's your favorite song off this album? Take the poll and let us know.
Speaking of September, UK digital rock station Planet Rock has declared next month to be Rush Month. Aside from playing more Rush and having competitions for tickets (Rush will be playing 7 dates in the UK in the first half of October), they will be broadcasting four exclusive interviews that were recorded in San Francisco earlier this year. The interviews were done by Planet Rock DJ, Mark Jeeves, who is a big Rush fan. The first interview is this Sunday, September 2nd at 7PM (UK time) and is with Neil. Apparently, he talks about Keith Moon and why he couldn't be like Keith, why the UK is important to him and he also chats about his lyrics. The other three interviews will be broadcast on the following three Sundays.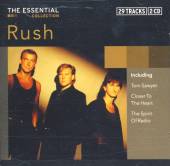 Also in the UK, a new Rush compilation releases early next month titled the Rush Essential Collection. It's a 2-CD set which contains 29 tracks and will retail for $14.99. No doubt this is meant to capitalize on the Rush UK leg of the tour this October. Thanks to messnmagic for the heads up.
September was also supposed to be the month that Neil Peart's new book The Roadshow Illustrated Companion was to be released. However, according to its Amazon listing Rounder Books has now pushed the release date back to July 25th of next year. The good news is that the paperbook edition of Roadshow is now available.
This past week we learned that the new Terry Brown-produced release from Detroit prog-rockers Tiles will be released early '08. Fly Paper, the band's 5th album, will feature an appearance by Alex Lifeson on one track. We also got to see some pics from Terry Brown's 60th birthday party where Neil Peart made an appearance.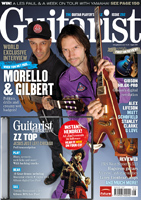 Reader arrowsandsnakes let me know that the latest issue of the UK's Guitarist Magazine contains a short interview with Alex Lifeson. The tagline reads:
The Canadian prog megastars are back! Alex Lifeson tells us more about the making of Rush's new album and the gear behind his sound
The article talks about why Alex stopped using PRS guitars; he said that too many people are using it out there and he recognizes this sound everywhere, so he wanted to change. Otherwise it doesn't contain anything we haven't already seen/heard.
As the Rush Far Cry single drops off the charts, The Larger Bowl single is beginning to climb into the top 20. It's currently #21 on the Mediabase Mainstream Rock Chart and climbing fast. Remember to call your local stations and request it!
James Suckling of the Wine Spectator is a good friend of both Alex and Geddy. He's interviewed them both in the past and mentions them and Snakes & Arrows in a recent blog post:
Rush and Barbera
By James Suckling
Posted: Monday, August 27, 2007

Have you heard the new Rush album, Snakes & Arrows? I have been listening to it during my tastings of 2005 Barberas. Maybe it's just the quality of many of the fruity, juicy 2005 Barberas, but I think the album is awesome. It harks back to some of the first great albums from the famous Canadian rock band, and I am very happy for my friends Geddy Lee and Alex Lifeson, who are big time wine lovers that I like to hang with. In fact, Geddy is one of the most knowledgeable Burgundy guys I know.

The best track for me on the album is the title song, "Snakes and Arrows." I love the beat and amazing guitar work, and the lyrics are cutting, almost haunting. Meanwhile, the best 2005 Barberas I have had come from Vietti, Clerico and La Spinetta. In particular, I really liked Giorgio Rivetti's new Barbera from his Barolo estate, Campè della Spinetta.

The wines have a fabulous richness of bright fruit, with hints of chocolate and citrus fruit as well as lively acidity and more fruit on the finish. They have everything you could want in a Barbera. I e-mailed Luca Currado of Vietti to get his opinion on the 2005 vintage, and this is what he wrote:

"2005 Barbera so far one of my 'preferred' vintages for Barbera. Rich, powerful, intense floral nose like 2003 but more balanced and complete then the 2003. I think it is similar to 1997 Barberas. Yes I think too, 2005 Barberas are better than 2003 and 2004. It looks like also that the top sommeliers in restaurants around the world, prefer the 2005 to the 2004/03."

I forgot to ask Luca's opinion on the new Rush album.
I'll forgive him for thinking Armor & Sword is the title track (I've seen that mistake made often). You can read Suckling's interview with Alex Lifeson from back in January at this link. And here's his blog post from around the same time where he discusses having dinner with Alex and Geddy. He's supposed to meet up with them in Europe when they play in Milan - he'll likely blog about that as well. Many thanks to jahlove for pointing me to this.
A Rush-related charity event that I'd mentioned a few times on the site was the American Cancer Society's Relay for Life of Westminster. As part of their fundraising efforts, they had set up a raffle for a Paul Reed Smith guitar signed by Rush. The winner was recently announced on August 25th. Here is the announcement from the website:
Congratulations to SHERRY DULL ! The winner of our "RUSH" autographed Paul Reed Smith SE guitar!

Thank you all for helping us support the American Cancer Society through your contribution through this raffle.

Be sure to pick up your copy of the chart topping new RUSH CD "Snakes and Arrows", and get tickets for the ongoing concert tour!

We want to express our sincere thanks to "RUSH" for taking time to help us with this great cause, the great RUSH fans who supported this raffle, "Coffey Music" of Westminster, MD and Paul Reed Smith Guitars for their support.

Thank you! Thank you! Thank you!
You helped us raise over $267,000 for ACS!

Please check back with us in 2008 for another unique opportunity.
Sounds like it was a resounding success!
Sam Rubenstein of basketball mag SLAM Online recently wrote about 7 thoughts not related to basketball, one of which was Rush:
Thought #6) Time out to placate Ryan. Ryan, I am going to a RUSH concert in September and it is not for any ironic or too cool for school detached reasons. I bought the tixxx as a present for my brother, who is a little bit older than you. Yes, we are fans of RUSH. Go ahead and make your snarky little comments about our nerdiness. They are great musicians. Neil Peart revolutionized how drums are played and he wrote the lyrics in his spare time. Alex Lifeson would have been a legend in any other band, but in RUSH he's the thrid most well-known out of three people. Geddy Lee has a huge schnozz. Now leave me alone!
Reader dwman pointed me to this article from CNET's Matt Rosoff which discusses the question of what makes a band/song classic rock. It talks about a method of using internet radio service lastfm to assign a numerical score to get a measure of listener devotion to a particular artist. Rush is mentioned:
... Bob Dylan (34.14) and Led Zeppelin (32.36) were in the 30s, which isn't surprising given their lasting influence and breadth of audience, and Rush also scored high (33.68), which shouldn't be a surprise to anybody who's ever met a hardcore Rush fan ...
So true...
Reader Gary alerted me to this story on ipod site ilounge.com about backing up your itunes library. It looks pretty apparent from the screenshots that the author is a big Rush fan. :)
Pro-consumer blog consumerist.com recently put up a post titled 10 Stupid Ways That Smart People Waste Money. Item #9 mentions Rush:
9) Buying DVDs you will never, ever watch, or books you'll never read, or clothes you will never wear...: When buying something ask yourself: "Will I watch this more than once?" or "Will I actually read this?" or "Do I really still like Rush?" If you answer yes, buy it. If not, don't.
Money spent on Rush is never wasted in my humble opinion. :)
A small announcement: reader Troy has started a Neil Peart fan yahoo group at this location if you're interested.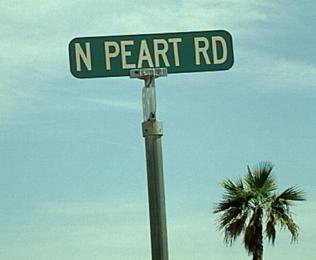 And lastly, Faithless sent me a street sign from Casa Grande, AZ that I think Neil Peart would get a kick out of. There's a North Peart Road there and the street sign just reads N Peart Rd.