Saturday, September 30, 2006
Alex Lifeson to host Trailer Park Boys movie TV special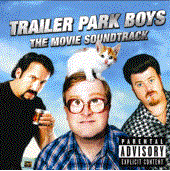 UPDATE - 7/2@10:04AM: Thanks to RushFanForever for finding the special on YouTube. You can watch it here.
UPDATE - 10/1@9:22AM: Here's the latest press release on the film. No new information though.
If you've been following this site for the past month or so, you no doubt are aware that the Trailer Park Boys movie soundtrack will be released this Tuesday along with the Canadian theatrical release of the movie on Friday. Alex Lifeson was heavily involved in the soundtrack. He compiled a Canadian "supergroup" called The Big Dirty Band and produced as well as played on their version of the 60s hit I Fought the Law for the soundtrack. Geddy Lee also played on the song and both Alex and Geddy also appear in the video which was released a couple weeks ago. Alex also plays on Liquor and Whores as a member of Bubbles and the Shit Rockers - and The Spirit of Radio is included on the soundtrack as well. The movie also contains a cameo from Lerxst where he plays, very appropriately, a cop.
So here's the rundown of the events of the week ahead. On Tuesday, Oct 3rd the movie soundtrack will be released on Anthem records in Canada. Also, the world premier screening will occur in Toronto with a "supergroup" concert to follow. I'm unsure whether this will be recorded and/or televised but Showcase TV will air a Trailer Park Boys: The Movie-Behind the Scenes special. Here's the synopsis:
Trailer Park Boys: The Movie - Behind The Scenes gives both Trailer Park Boys' fans and film-lovers an exclusive behind-the-scenes glimpse into the making of the highly anticipated feature film which is based on the hugely popular Showcase series. Loaded with exclusive clips from the film, behind the scenes footage and cast and crew interviews, this hilarious half-hour is sure to entertain.
On Friday, Oct 6th the movie will be released across Canada and Showcase TV will air a special hosted by Alex Lifeson called Trailer Park Boys 101. Here's the synopsis:
From his unique perspective as not only a Trailer Park Boys fan but a guest star on one of its most popular episodes, Rush's Alex Lifeson guides the audience on an insider's tour of the world of Trailer Park Boys. Packed with hilarious clips from the first six seasons as well as producer interviews, this half-hour Showcase special is a must-see for not only fans of the hit series but for those who have been wondering what all the buzz is about.
Related Posts:
[Music video for The Big Dirty Band's I Fought the Law on YouTube]
[Trailer Park Boys movie soundtrack available for preorder]
[The Big Dirty Band premiers I Fought the Law on MySpace!]
[The Trailer Park Boys movie: soundtrack tracklist and a cameo from Officer Alex Lifeson]
[The Big Dirty Band and I Fought the Law: single to be released Sept. 12 with video shortly after and ... live dates!?]
[Rumors within rumors in a spiral array: Richard Chycki, Rush and the Trailer Park Boys movie soundtrack]
[Nick Raskulinecz to produce new Rush album]
[Alex and Geddy to record a song for Trailer Park Boys movie?]
[New Trailer Park Boys movie trailer online]