Monday, July 31, 2006
Rush's Moving Pictures makes list of Guilty Pleasures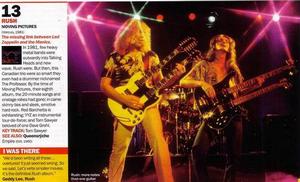 Q is a music and entertainment magazine published monthly in the United Kingdom. The September 2006 issue features a list of Guilty Pleasures; 115 records it's OK to love. In at number 13 is Rush's Moving Pictures. Here's what they have to say about it:
The missing link between Led Zeppelin and The Manics.....
In 1981, few heavy metal bands were outwardly into Talking Heads and new wave. Rush were. But then this Canadian trio were so smart they even had a drummer nicknamed The Professor. By the time of Moving Pictures, their eighth album, the 20-minute songs and onstage robes had gone; in came shinny ties and sleek, emotive hard rock. Red Barchetta is exhilarating; YYZ an instrumental tour-de-force; and Tom Sawyer beloved of one Dave Grohl.

Key Track: Tom Sawyer
See Also: Queensryche - Empire
I WAS THERE (Quote from Geddy) "We'd been writing all these.... overtures! It just seemed wrong. So we said, let's write smaller movies. Its the definitive Rush album".
Rounding out the rest of the list:
12) The Traveling Wilbury's - Vol 1
11) ELO - Out of the Blue
10) Phil Collins - Face Value
9) Simply Red - Stars
8) Dire Straits - Making Movies
7) INXS - Kick
6) ZZ Top - Eliminator
5) Billy Joel - The Stranger
4) Def Leppard - Hysteria
3) Hall & Oates - Private Eyes
2) Supertramp - Breakfast In America
1) Meatloaf - Bat Out of Hell
Thanks to The National Midday Sun forum member Analog Rockin Hard for the scan.